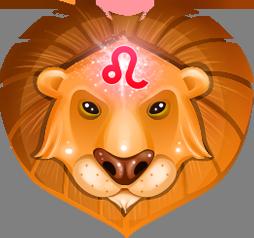 Characteristic sign Leo
23/24.07 - 23/24.08


In the sky, the constellation Leo (lat. Leo) occupies a rather large part of it.
Leo constellation personifies wisdom, courage and strength.
According to astrologers, Leo is a royal sign, and people who appear under it have a special dignity, nobility, courage, and the ability to manage people.
Element - Fire.
Lion Planet - Sun.
Lion Stone - Ruby, Coil.
Talisman of Leo - lion, eagle, ladybug.
Colors - yellow, golden, golden beige.
The part of the body that corresponds to the sign of Leo is the back.
The most vulnerable organs, systems, parts of the body - the back, spine, heart, cardiovascular system, diaphragm, blood circulation, arterial system.
Typical diseases are inflammation, diseases of the eyes, stomach and pleura.
Favorable climate - warm, hot, tropical.
The best place to live is large, central cities.
The typical appearance of Leo is tall, wide bone, high forehead, sensual mouth, lively, with a sparkle of eyes, domineering look.
The most suitable specialties of the zodiac sign Leo on the basis of the subject of labor: "man - man", "man - sign system", "man - wildlife", "man - artistic image."

Character character



People born under the constellation Leo are characterized by an amazing vitality and thirst for life. They are distinguished by optimism, cheerful disposition, sociability, these people are always in sight, in the spotlight. At the same time, they willingly and generously share the power of their natural charm with those nearby.

This sign is called regal not for the sake of a red word. Those born under him lead an appropriate lifestyle, have a special, inherent only to them manner of communication and behavior. The desire to "reign", to rule people is combined with a generous heart and a kind soul.

They have no need for self-affirmation - they simply majestically go through life, full of dignity and a sense of their own superiority. In every gesture, in every statement of Leo, feline softness and awareness of the inner power and greatness of the king of animals are surprisingly combined. Self-doubt, shyness, and complexes are not about Lions. They do not like loneliness, do not plunge into melancholy and despondency. Representatives of this sign of the zodiac are very enterprising, among them you will not find a poor and destitute person in distress.

Society Lions are simply vital, because they must constantly feel their dominant position. For their part, people are also drawn to them, because they see them as patrons - strong, generous and generous. Literally in any new company, Leo quickly becomes an authority, a leader, and people with pleasure join the number of admirers of his warmth and friendliness.

Wise Lions are generous with advice and any help whatsoever. They easily shoulder the burden of others' worries, support financially and with great pleasure do charity work.

However, even regal and powerful Lions can be quite vulnerable. For example, disregard for his advice expressed by someone, disrespect, reproaches of self-confidence and superiority over others, denial of the nobility of nature can cause a whole gamut of unpleasant emotions in Leo's soul - from discontent to rage. Leo will also find his vulnerability in a situation where someone himself will offer help, express doubts about endurance and strength, refuse to do some work, considering him an insufficiently suitable candidate. The humiliation of self-esteem, the wounding of pride, ridicule, criticism - all this is perceived by the representatives of this sign is very painful. The lack of attention to their person makes them suffer.

Relatives and friends of Lviv should know: in order not to be offended or angry, one must conduct them kindly, gently, but without indulgence; one must not spare their love for them and unconditionally acknowledge their superiority and greatness. In return they will receive devotion to an open and noble soul. If any disagreements happen, then the Lions, with all their pride, are ready to go to reconciliation, to forgive and do not remember evil for a long time.

Arrogance, vanity, pride, egocentrism, love of praise and flattery are often inherent in lions. However, their many friends are ready to forgive all this, because they also see optimism, love of life, help, sincere love from the representatives of this zodiac sign that illuminate their life. Even the mighty Lions are often subjected to the blows of fate, and those around them can receive excellent lessons in resilience. They will learn how, even in the most difficult situations, one can and should maintain self-esteem and optimism, how to perk up and, without losing stamina and hope, continue to move on.

Lions behave, as they should be by status, not only in public, but also at home, in the family. Their home should look like a palace, a mandatory attribute of which are luxury goods. There, they feel themselves to be real masters, capable of creating an atmosphere that fully corresponds to the royal Leo. In his house it is comfortable to live and enjoy this life, meet good friends and enjoy their company.

Among the Lions it is rare to find a bachelor or an old maid: as a rule, they prefer to start a family. Their search for a life partner is tireless and passionate, but at the same time they seek, first of all, love and devotion and therefore will not impose themselves on anyone. The true happiness of Leo is not at all in satisfying his vanity, but in loving and being loved. They do this from a pure heart, chivalrously, anxiously caring and not suppressing the will and individuality of the people who are dear to them.

At the same time, representatives of the royal sign have a personal, family life that is often unhappy. They cannot get along with those who do not want to understand the character traits that the stars themselves endowed with Lviv - inability to obey and follow advice, unwillingness to give in to attempts to limit their freedom, extravagance, pride, conceit, unbridledness, fits of rage, wastefulness, the desire for what whatever it is, to luxury, to full awareness of the life of others, the thirst to have as much as possible, the love of flattery and praise.

In turn, people who manage to build a fairly independent line of behavior and at the same time not provoke Lviv to negative manifestations of their temper, get a lot. After all, representatives of this sign are committed to partnership and warm, sincere friendship.

Leo's soul

People rise to the next, higher stage of their development through overcoming themselves. As the personality develops more and more, its positive qualities form a more and more harmonious combination, and the person himself gets the opportunity to build his own destiny more and more successfully.

However, ideal people simply do not exist. We all must keep in mind that because of the dominant planet, every sign of the zodiac receives not the best qualities that affect the character of a person.

So, the Sun endowed Lviv with megalomania, vanity, snobbery, excessive pride, despotism, indifference to everything, being in a closed world, the desire to be the center of the universe, the duality of thoughts and feelings, gluttony, a tendency to drunkenness, a craving for extortion, excessive passion for tinsel, the outside of life.