ARKADY ILCHUK

About the author of the site:
On April 6, 1946 in the village, the subsoil of the Municipal District of the Odessa Region
(Nowadays - the village of Basilino Basilino district of the Nikolayev region)
in Ukraine, in the family of a worker and a housewife.
School, military tank school, service in the army of the former USSR. Senior Officer - Mayor.
Wife - Ilchyk (Iokybayskite) Irena Kazyo. Children: son of Pyslan and daughter of Dive.
By I've been married in the house of Death.
To survive in this world he would help St.

Helen

- his Mama.
Could be a military priest or military priest Stopped in the army.



Another World

or


Beyond the Darkness



| | |
| --- | --- |
| | All children of the world lead an active lifestyle, play various games. These games, this is a prototype of people's lives in the future, possible work and behavior as a person. No different from peers, and I also ran, looked for everything new, unknown to me, watched the life of my neighbors. To the best of his ability, he worked on personal and suburban plots of land, helping parents survive in this world. I liked playing soccer, being a kind of leader in this matter, organizing games between yard teams and so on. Once in the spring, after an exhausting game of football, the sweat lay down on the raw earth to rest and, as a result, as is often the case in such cases when you do not listen to your mother's words, got sick with light lungs. |
Was on the verge of death. This state cannot be called otherwise. I saw nothing and did not hear, did not feel. I was beset by complete darkness. What happened outside the darkness in which I found myself disobedient, what my mother did to save my life, I do not know. Probably everything was tried that could be obtained or asked, including a doctor and a priest.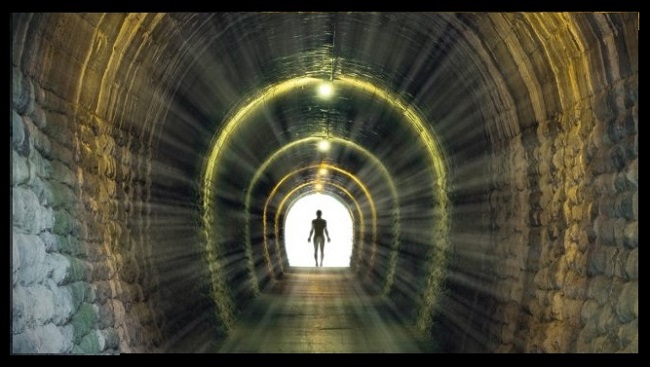 Suddenly, I found myself on the other side of the dark, in other words a red - different color. I have never heard of similar cases before and even imagined, and could not think that there is some kind of pipe and that you can get there and do something. Incredibly, such a fact happened to me and You won't run anywhere from this. This incident cannot be erased from memory, it is there forever. The color of the inner part of this pipe-channel was matte, soft, calm, the color of fresh meat. This was due to the fact that the pipe walls did not look like a flat sheet of paper. We can say that they were velvet.
The first sensation, the thought was: where am I, where did I get to, and is it me: this little little brown color that moves - flies down in the air? Moving along with a circumventing chebryshashky space.
The speed of the movement was imperfect. A length of the tube, somewhere, 10-15 centimeters.
During 10-15 seconds, you can fly all the way to the end of the tube. Chebyshashka flew less than 1/3 of the location before the moment when I "saw" it. I saw the rear. Thought: maybe this is me? Country? How can you see yourself behind?
See, how can you get the hell out of the mirror and I'll watch it back? How unusual is it to see myself in such a way and I tried to see myself ahead, to see what ya me - chebrasha face? But to see how the little one looks ahead, if there is a person and in what way - it did not happen. And all the same, I thought, if it's me, then you need to try to stop and return back, I took it away. If the cheburashka stops, then this cheburashka is I. I had no desire to move to the end of the pipe. And in the end, why should I fulfill someone's will?
I tried twice to stop, to stop the movement of space. Surprisingly, I, this cheburashka was able to stop. It turned out that this I and this brown chef were somehow interconnected.
Ho turn back movement failed. An interesting sensation at that moment was.

I saw myself - in the back and at the same time I felt myself all over the tube - the cylinder and not only this pipe, but the whole space that for some reason, it tended to increase.

I am this kid and all

Universal

all at once. To do this, it is hard to verify and, therefore, to understand more.

As long as I took off the load, and to keep on the place could only be tightened, the chef kept moving.
Continued to move forward, where it was stopped.
I, this one this guy, didn't have normal pyk and foot. They were small, long and wide, identical, covered with claws, like y monkeys. At least, it seemed to me so, for I did not see the claws. And there was, besides nothing, for what could have been held. Channel - the cylinder was perfectly even and tilted downward at an angle of about 45 degrees. The space after the channel was illuminated with soft white light. But the canal was also lit inside, the cheburashka was moving, after all, not in the dark.
I stayed approximately in the middle of the channel and thought at that moment: why, in the opposite direction, no one is moving?
The diameter of the cylinder was sufficient for two-sided movement or movement in two rows. Some questions ... No answers. You are alone with yourself ... Time did not stand still. It should be kept at a reasonable price and the result is nonexistent. It was gentle and come take a decision. I thought, if such is my
The fate
and returning back to this world, the world of the Sun will not happen, then last measure, I will see that thereafter - after the channel. The feeling was not pleasant. Either-or ... Or stay alive, or ... I didn't want about it think. Again, I suspended my movement at the edge of the channel and looked at it.
| | |
| --- | --- |
| | At the end of the canal, or rather, behind the canal, both sides are slightly above the surface (the surface was below the pipe), as a matter of fact, did not lay two eggs, similar to brown, white. They stood with the pointed part up. Standing strange, not bending the surface, on which a little was found. The eggs were divided (to put it more precisely - crossed out) by nine parts. In the left egg, in its center did not reach one part. This part was also sized and sized. In the same way as chebyrashka. This part was not flat, as a crooked egg was cropped, and with ironing. At this point, I realized that the cake is also not flat and has some volume. |
The shape of the right egg was full and regular, only too divided into nine parts. I even asked. I do not know why. Probably wanted to know if there is life in thisegg?
It was strange that I felt in him the beating of life. So I showed, at the very least.
Behind the eggs there was an explicit surface (as the table surface), divided into some rectangles.
Do you say - Earth. Soon, it was similar to the water in the lake with a slight tension, which may keep small insects and solders. The surface level was lower than the level of the boat. In fact, before the start of the tube, if it is not necessary, do not supplement the cup. Yes, and how to jump? The space was illuminated with white light. But, as I did not consider, I did not see a light source. The sun was not visible either. In front of it there was a river: curved, cepe wide and without any obstructions and bridges, a boat.
| | |
| --- | --- |
| | A normal person in this world would be easy to overwhelm this person. But I, Cheburashka, was very small, much smaller than a ladybug. For example, in 1/4 of its size and, in addition, did not have a normal one, like a man. The banks of the riverside were not washable, but on the upper surface. The river had a beginning and an end. The beginning of the rivers and the end of it went in the dark, after that, the surface. They didn't leave immediately, but gradually. Ha the first glance seemed to indicate that there are currents and nonsmall, to the left to the left. |
But it only seemed.
The course of the river was somehow unusual, strange. The waves were one on the other and changed with a notable synchronization, as a result plug in. Only the left part of the wave was illuminated and it was a silver color. The rest of the wave and the whole river were red-orange. I still thought that it could be a little native, because the blood goes on. The time was limited for me and I thought that I would like to see it in a different way. Probably not knowing it myself, I had already decided that I would be able to get out into the sunshine.
Behind the river - the hill is dark. More in the depths, then everything is darker. All the space behind the river was filled with some kind of gas. All this, it was later on a dark cloudy cloud or exhaust gas from a diesel engine. I carefully examined the hill across the river.
| | |
| --- | --- |
| | But I didn't see anything, only a dark greasy cloud behind the river ... Something or something, in fact, I tried to engage on the other side. Whatever it may be, I wanted to show you, as by the way, the racks are good. TSo it's good to watch life, I want to stay there forever. Good, I thought, show! Only from the edge of the channel I did not gather to tear. Strange, but I saw you life behind the river, on the hill. |
There was some village on the other side of the hill. How it looks in the dark and can not be resolved. I found myself at the entrance to some hut. Men's hut annoyed to go in. Ho, for some ten years, I kept from this step.
| | |
| --- | --- |
| Interior rooms, distinguishable, there were some naras, they were lying on them, some seats, people silhouettes. It was all in some movement. Some went in the room, others came out. Some kind of nervous situation was felt. There were some events. | |
| | |
| --- | --- |
| | Ho, there was no joy there. I felt that there with people of rest are not concerned. Children's children, children's children and children anyway, tricked souls are suffering there. The same unceremonious, angry breathing mocks them there. All events take place in the half-light. I gave up I looked at my room from the room and tried to see what was going on and around the house, where there was a little light. |
A little further, some silhouettes of people moved. It was felt that for some people it was necessary to cross from one cover to other. They tried to convince me that, well, they suggested that they leave. I didn't like it there. I could return to the place where I was first, and at the end of the trip. C

you

are parties to this

World

already no one and never returns. For the first time I thought that it was cloudy black color, which consists of a human being. It has become sober. They can never help anyone.
On this side, there was a side, which is dummy and, along with that, a fuse. No desire to turn up on the other side, but more so there should be no more, I haven't. Yes, and I could not return, then there is no boat.
| | |
| --- | --- |
| | I refused this, deceiving and imposed on me, thought. Ha How many smog, not tearing itself out of the tube, I looked at the space for eggs with right and left sides. Other eggs were not there. Only the top surface and the river. On the left side in front of the river was some kind of elevation. I felt that the whole space, which I had considered, was needed under some kind of hood. It's a sinful thing, I thought that I've got into some kind of sex voyage. Gradually I dropped the tension (relaxed a little). |
| | |
| --- | --- |
| The baby started to fly around the left egg to grow her heart, where it was not enough in the center of one part. I thought that this place was intended for me. And I become a part of this egg, and then a new life will begin. I thought it might be some kind of scare, hand or foot, head or man of the new year, or tschistva. | |
I flew around the egg, his back to him. While flying, I tried to scrub the egg from the other side. But this happened to me with more work, as they say - all by the eye. And what did I see? There were no complaints from the other side. I thought she had not yet formed.
| | |
| --- | --- |
| | The egg itself, for my surprise, was filled with the same black gaz, that and the hill for good. The movement has sprung up and I have seen myself - already in tribe flying back to this world, the world of the Sun. At this point, I was told (in detail) that such tricky ones are not necessary. Since I was in the that world, if I was in an egg, I don't know. In that world, no one asked for my wishes and that I should be there or not. There is no sound. All - silent. For a long time I still lived in the dark, I have never seen or heard anything, I didn't feel it, and only the voices of Mama returned me - I returned from a strange and inexplicable light, (from to the world): Apkadiy! You can join us !. How to get up if there is total darkness around? |
This is not all. How far was it, where have I been in other cases? - It is impossible to verify. If someone would tell me about this event, and yes, o subsequent events, he would not have believed, like any other sane person. Apkady
Fate

(yours, my, mine)
Conceivable Interpretation
Contents:
You is offered five predictions of the Fate (life) of a person:
1. The Four Pillars of Destiny. 2. Twelve indicators of good luck. 3. Acceptance of the Nine Palaces. 4. Star-numerical numerology.
5. Twenty of the constellations.


In each of the foregoing, there are two documents: dock. Conspicuous interpretation and dock. Interpretation, also common to all forensic document. Birthday codes. You only need to use the data from Koda and Medicament to carry out all operations in the same way. Sequence, as indicated in the sample, selected in a favorable interpretation. All the rest depends on your imagination and the living, thank you for your warmth, giving it to people who you tell me about. If you are well developed imagination and fantasy, it is possible to summarize all the accusations in one, upyky only unimportant episodes, not relevant to your opinion. Each of the good interpretations It will help you to determine your abilities, to appreciate the present and to determine the behavior and your behavior in the future. From your desire depends on which advantageous interpretations to choose.




Do not forget:




1. A nice lunar-sunny year always starts from February of the month to the summer style.
2. Do not forget that according to the Star-numerical calendar the day, new quotes, starts from 23.00, therefore, if you are experiencing an event that is progressing March 31 at 23.05, you need to watch the next day of April 1.
3. When defining a clock, read the switch for the summer that is valid in your hospital. Star-numerical calendar - this is a calendar cosmic energy, it doesn't read those manipulations with time, that people make in this or that country of our globe.
4. Chinese and many other people think that a person lives in the middle of 60 years and divides a person's life for three parts: to 20 years, from 20 to 40 years, from 40 to 60 years. After 60 years, the lifespan of a person depends
on that, how he lived, led himself to this. If life was balanced and without emotional discomfort, a person lived
in harmony with nature, but you can still hope for one more life.

5. You did not choose your day of birth. Childhood has come from your surroundings (children), youth is from your own persecution. Today - you you will reap the fruits of your behavior and the rest in the past. Your tomorrow, your life depends on your fasting and behavior today. It's up to you to decide how to live on: consciously or like an animal.
This site is an attempt to help you to work on yourself and to recognize your place in this world.

By the way, in the world

darkness

- other values and order. From how you make sense of your life,

how to take a little nourishment and get to go further, and your life depends on this sunny world.

I came to this world - the world of the

Sun,

to tell you:

He kill! Do not steal!
Why are you asking yourself your mom questions? Hey, if you go through the road not fulfilling the electrical safety requirements?
Do you sit down at the dust of a car without knowing the rules of the road?
Why are you discovering your entire conscious life? You probably know why all this is necessary for you?
So why are you, without thinking, not knowing the elemental rules, give the impulse of a new Life, kill it, still such weak and hrypy? In the best In this case, you will yop her good future and, still not survived, the years.
| | | |
| --- | --- | --- |
| | You are not a crook and a killer. You are not alive. You are a reasonable person. Try to schedule a day of birth for your children (your future) happy stars. As you can, help new life to strengthen. Try to learn the rights, how to do it all, and you will live in the recognition of their children - Of course. | |


- - - - - - - - - - - -
Partial Property:
there are still no children and tex, who prematurely passed away (up to 60 years)
with the World of the

Sun

- in the World of Darkness.